Conceived and produced in France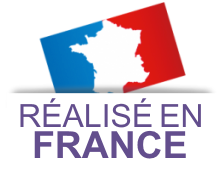 Guide Apacheta collection publishes trekking guidebooks on faraway destinations, even at the end of the world… But the works are imagined and realized entirely in France, in Voiron exactly, at the foot of the Chartreuse massif in Isère. A French creation from A to Z, to make you discover the paths of the world. From the study of the itineraries, through the writing of the guides, to the diffusion on the internet, the whole conception, apart from the field surveys, is made in France. A know-how of passionate people who contribute to a guarantee of quality guaranteed.
Guide Apacheta is edited by Simon Dubuis under the status of auto-entrepreneur, registered at the Grenoble (France) trade register.
Hosting: Guide Apacheta website , www.apacheta.fr, is hosted by OVH. A French international company based in Roubaix in the North of France, it specializes in cloud computing services. Guide Apacheta's data is located in a French datacenter.
Payment: All payments on the Guide Apacheta website are made and secured by the Payplug platform. Payplug is a French company based in Paris that specializes in online payment solutions.