Virtual tour of Argentina's national parks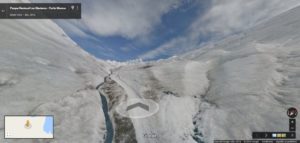 ince May 2016, Google Street View and the Administración de Parques Nacionales Argentina have been putting Argentina's natural heritage online. All of the country's national parks are within easy reach of the world. Just a few clicks are enough to (re)discover these natural wonders, 360° virtual tours. The animations have been created with Google's trekker tool, an 18 kg backpack with 15 cameras to photograph the landscape from all angles.
Currently, 13 national parks are available. The missing parks will be put online soon. See the national parks in Google Street View.
Iguazú National Park
Los Glaciares National Park
Los Alerces National Park
Nahuel Huapi National Park
Palmar National Park
Lanín National Park
Bosques Petrificados de Jaramillo National Park
Lago Puelo National Park
Mburucuyá National Park
Francisco Perito Moreno National Park
Patagonia National Park
Los Arrayanes National Park
Pre-Delta National Park
Tour to Nahuel Huapi National Park
Stroll below through the Nahuel Huapi National Park located in Northern Patagonia, starting from the Emilio Frey refuge at the foot of the famous Cerro Catedral. Find the guidebook Nahuel Huapi National Park.