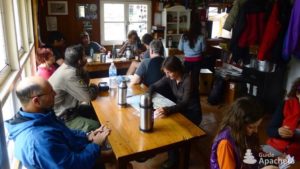 The Refugio Emilio Frey is located in the Cerro Catedral mountain range in the Nahuel Huapi National Park in Patagonia. Built in 1957 on the edge of the lagoon Tonček, it is one of the most picturesque refuges in the park, but also one of the smallest, with a capacity of 40 beds. It is named after an engineer who worked hard for the region and who was the first director of the Nahuel Huapi National Park in 1934. Today it belongs to the C.A.B. (Club Andino Bariloche), the most important mountain association in the region, founded in 1931.
Its easy access from Villa Catedral and its location on the edge of the lagoon Tonček in the heart of the Cerro Cadetral cirque, make it one of the most popular walks in the park. The refuge is open all year round, offering overnight accommodation in dormitories. For campers, it has an off-bag room for shelter, as the place is highly exposed to the weather.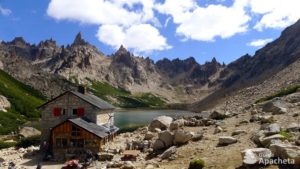 To cope with its influence, since 15 December 2016, booking for an overnight stay or a bivouac nearby is compulsory. It must be made a few days before, on the site of the refuge.
Hut website: www.refugiofreybariloche.com