Romanian maps Munții Noștri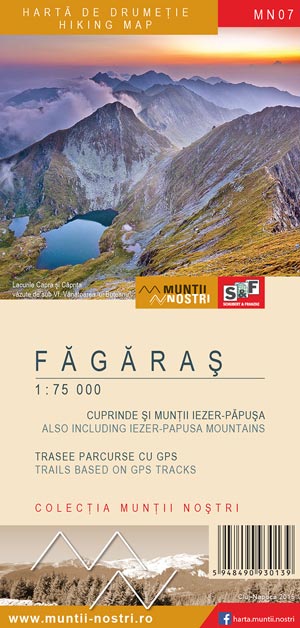 Munții Noștri ("Our Mountains" in English) is the name of a collection of hiking maps dedicated to the mountains of Romania. These maps are published by the publisher Schubert & Franzke, but its name comes from a collection of Romanian travel/hiking guides that marked its time in the years 1974-1992..
The maps of Munții Noștri are among the most recent and updated maps dedicated to the Carpathians of Romania. They are available in paper and digital (print) versions on the publisher's website and in bookshops. Each map costs about 20 lei and 30 lei for the double map of Munții Făgăraş (for a hike in this mountain range, find the guidebook Făgăraş Mountains).
On the back of each map there is a summary of almost all the routes in the mountain range, with distances, walking times, gradients, difficulties… In addition, GPS tracks are also available for free downloading on the website Munții Noștri.
List of available Romanian mountain ranges
Munții Bucegi 1:35 000
Munții Piatra Craiului 1:40 000
Munții Rodnei 1:55 000
Munții Ciucaş 1:25 000
Munții Postăvaru , Piatra Mare and Baiului 1:45 000 et 1:50 000
Munții Retezat 1:50 000
Munții Făgăraş 1:75 000 and 1:35 000
Munții Maramureșului au1:65 000
Munții Ceahlău 1:50 000 and 1:25 000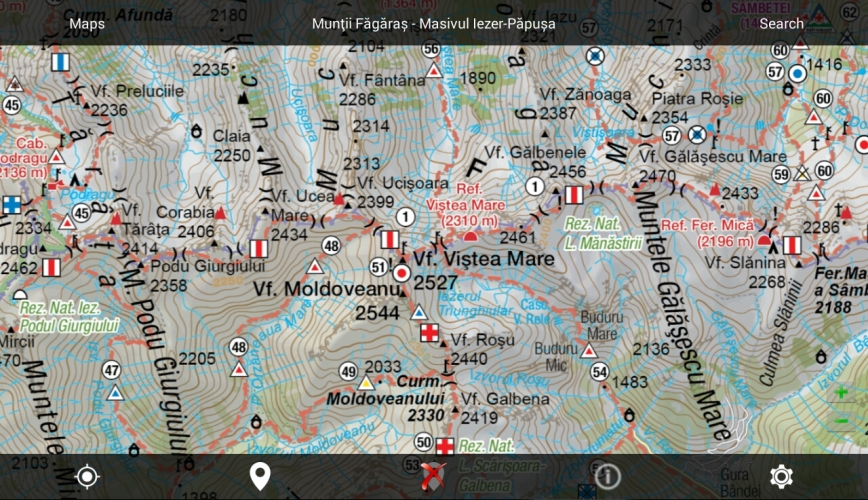 The publisher has also created a free application available on GooglePlay and Appel Store. It allows you to download (free of charge and without limit) maps for offline use and to display GPS tracks. An internet search engine makes it easy to find a specific place (pass, lake, summit, refuge…). The maps can be consulted from the application, with a tablet or a smartphone, but it is not possible to print them.
Website : www.muntii-nostri.ro
Discover the Romanian Carpathians with theguidebook Guide Apacheta of Făgăraș Mountains