Difficulties of the Choquequirao trek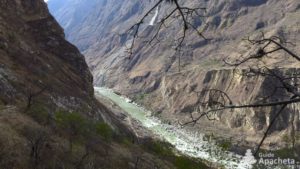 The Inca city of Choquequirao is located at the top of a ridge in the Vilcabamba Mountain Range (discover this trek with the guidebook Guide Apacheta – Inca Cities of Vilcabamba). To date, it is accessible only on foot. The shortest and most commonly used route is from the village of San Pedro de Cachora. A 4-day round trip trek, which is not the easiest, especially for people who are not used to trekking.
The start of the trek is at an altitude of 2920 metres and the archaeological site at 3060 metres. In between, however, you must cross the Río Apurímac at the bottom of a canyon at an altitude of 1500 metres. This makes a total descent of 1500 metres, followed by 1500 metres of ascent, which will have to be done twice over the four days, on the outward and return journey. To do this, the trail makes long series of impressive zigzags.
To this is often added the heat. At such a low altitude, for the Peruvian Andes, and embedded in this narrow valley, it is generally very hot. The sun hits hard and there are few corners in the shade. In any case, it is difficult to stop too long to rest or enjoy the sun. The area is infested with small midges. Although at first sight they seem harmless, their bites are frightening. The itching can last up to a week!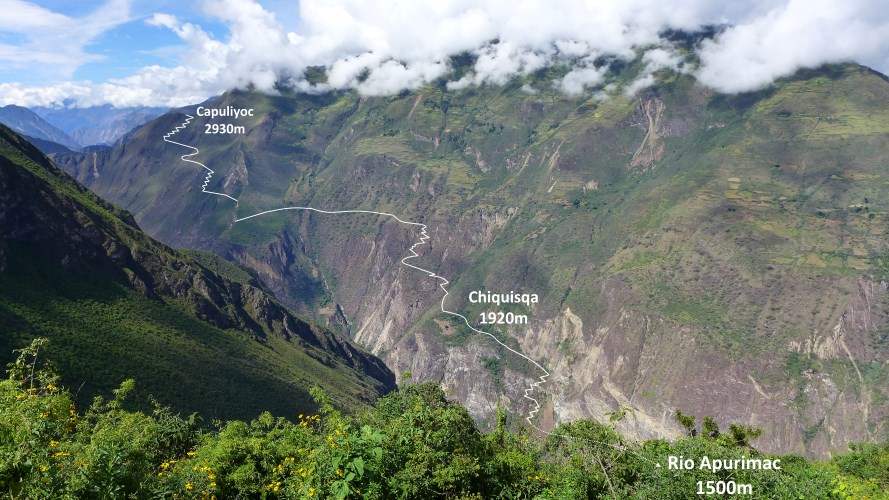 An unforgettable discovery
This trek, which is a little physically demanding, can also be done with the help of a muleteer and his mules if necessary. Whichever way you approach the itinerary, at the end of the way the reward is equal to the difficulties! Discovering the little frequented city of Choquequirao, especially in comparison with Machu Picchu, after two days of effort, is an unforgettable moment of his stay in Peru.