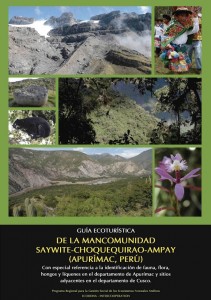 The book "Guía Ecoturística – Mancomunidad Saywite-Choquequirao-Ampay" is a complete ecotourism guide to the Apurímac region of Peru. It is in this region that the Vilcabamba Mountain Range, described in the guidebook Inca Cities of Vilcabamba, is located. Published in November 2012 by Asocam, a foundation that works for the management of knowledge about Latin America, this book is available free of charge and has no less than 970 pages. It is published in Spanish, but it is interesting even for people who do not speak the language.
The guide is divided into 5 main chapters:
The region of Saywite-Choquequirao-Ampay
Villages with tourist attractions
Sites of tourist interest
Fauna and Flora Identification Manual
Perspectives and recommendations
The chapter devoted to fauna and flora makes it easy to name mammals, birds, reptiles and insects, as well as trees, flowers, mushrooms… that you may observe during your trip. For this section, each species name is indicated in Spanish, Quechua, English and Latin.
Where to get the guide?
While the paper edition is now out of stock, the digital version is available for free download on the official website.