Inca City of Machu Picchu
Description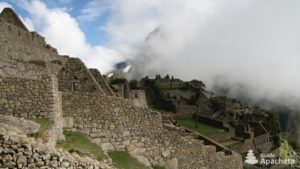 Located at the top of a ridge between two peaks, the city of Machu Picchu is divided into two sectors. An agricultural sector located at the foot of the Cerro Machu Picchu, which is essentially made up of terraces and is today the gateway to the archaeological site. An urban sector located at the foot of Huayna Picchu, with many buildings. Thus one can admire (discover) around a large central square: the temple of the sun, the temple of the three windows, the sacred stone Inti Huatana, the ceremonial baths, the house of the priests, the royal palace… The site being very extensive, it is preferable to have a map for the visit.
History
The city of Machu Picchu was built in the 15th century during the reign of Pachacútec, the great Inca emperor who developed and modernised the Tahuantinsuyu Empire. Perched on top of a ridge, in the valley of the Río Urubamba, the city would have been an administrative, political and religious centre as well as the emperor's royal residence. After his death, his lineage continued to maintain the city that housed the mummy of Pachacútec, but it lost some of its influence. Machu Picchu finally fell more or less into oblivion when Huáscar and Atahualpa plunged the empire into civil war just before the arrival of the conquistadors. As a result, it did not play the leading role of the cities of Vitcos and Espíritu Pampa during the years of rebellion from the Vilcabamba Mountain Range.
Although it was never totally forgotten, it was in 1911 that the city was scientifically rediscovered by Hiram Bingham. While searching for the city of Vilcabamba, he was led by peasants to Machu Picchu. Since then, the expeditions followed one another to make the world discover the most impressive city of Peru, until its classification in the world heritage of the UNESCO in 1983.
Extract from the guidebook Guide Apacheta – Inca cities of Vilcabamba
Reservation website of the Machu Picchu : www.machupicchu.gob.pe